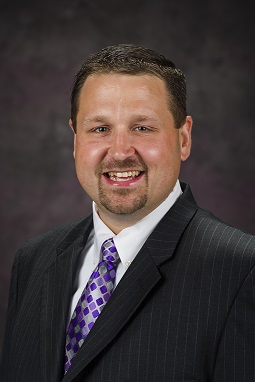 Dr. Kevin Roberts, Ph.D.
Dr. Kevin R. Roberts is a professor in the Department of Hospitality Management at Kansas State University and director of the undergraduate program in hospitality management. Roberts serves as co-director of the Center for Food Safety in Child Nutrition Programs. Roberts worked in the restaurant industry for over 13 years and managed restaurant in Eastern Iowa.
He currently teaches in the areas of foodservice management and hospitality law. He has received outstanding teaching awards from K-State at the college and university levels. His research is related to the application of food safety principles. Specifically, he has conducted research in commercial restaurants, continuing care retirement communities, and school foodservice operations. His current research focuses on behavior change of employees once food safety training has taken place. His interest is in developing alternative food safety training programs and interventions that not only target knowledge, but the antecedents of behavioral intention.
Meet FoodHandler's Food Safety Leadership Team: Jeannie Sneed, PhD, RD Dr. Sneed has been an educator and researcher in foodservice operations and food safety for over 30 years. She retired as a professor and administrator from Kansas State University where she also served as a research professor for the Center of Excellence for Food Safety Research in Child Nutrition Programs funded by the U.S. Department of Agriculture. NSF International awarded [...]

We are pleased to announce that our new food safety consultants—Dr. Jeannie Sneed and Dr. Cathy Strohbehn—will be writing blogs twice each month, on the first and fifteenth. Their goal is to make these blogs relevant, and to continue conversations about food safety among foodservice operators. We invite you to contact them to ask questions, share success stories, make suggestions for blog topics, or provide other thoughts you have about [...]

Blog by Lori Stephens based on the new FDA Food Code release. The FDA has released an updated version of the federal Food Code – Food Code 2017. What is the Food Code? The Food Code is a set of requirements based on science for preparing and serving food. The Food Code documents the best ways to prevent foodborne illness and injury.  It provides guidance for restaurants, retail food stores, [...]
Have A Food Safety Question or Comment?"
Use the form to the right to contact our food safety team. Whether it's a questions about one of the SafeBites webinars, the food safety blog, or any topic food safety related.
Do you have great ideas when it comes to food safety? Share them with our team.
We're interested in your ideas for webinar topics, blog articles, industry trends, etc.
We'd love to hear from you!