[vc_row][vc_column][vc_column_text]

oneSAFE® SINGLE-GLOVE DISPENSING SYSTEM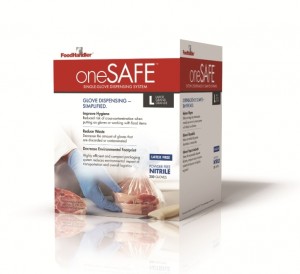 A revolutionary innovation for increased food safety. 

One glove at a time. The oneSAFE® design makes it easy to grab only one glove at a time and put it on without contaminating other gloves in the box. Because the system allows users to touch the glove only on the cuff, the glove's palm and fingers won't come into contact with the user's bare hands. The unique, single-glove dispensing system also helps reduce the amount of gloves contaminated, dropped and discarded, helping you control costs and run an efficient operation.
Smart. Simple. Safe.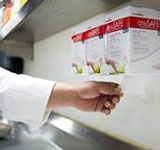 A first-of-its-kind innovation in the food industry, our new glove dispensing system enables you to provide a higher level of safety to your foodservice operation. Its ease of use can help significantly reduce the risk of cross-contamination, reduce waste and decrease your operation's environmental footprint.

HYGIENE IMPROVED – The oneSAFE® cuff-first dispensing system dramatically improves employee hygiene by reducing the risk of cross-contamination when putting on gloves and working with food.
WASTE REDUCED – The oneSAFE® system lowers the incidence of discarded gloves due to them falling on the floor or being contaminated by users during the donning process.
COMPLIANCE INCREASED – Our compact packaging design reduces the environmental impact of transportation and logistics, and of required storage space.

What Makes oneSAFE® SINGLE-GLOVE DISPENSING SYSTEM Stand Out Among The Vast Array of Glove Choices?
Single-glove dispensing system

Powder-free nitrile gloves used for a variety of tasks

Formfitting and latex-free

Decreases an operation's environmental footprint

Help reduce the risk of cross-contamination

Light blue color

ITEM #
SIZE
DESCRIPTION
CASE PACK
TOTAL UNITS
oneSAFE® Nitrile Powder Free Gloves
103-1SF-212
S
oneSAFE® Nitrile Powder Free Gloves
4/250
1000
103-1SF-214
M
oneSAFE® Nitrile Powder Free Gloves
4/250
1000
103-1SF-216
L
oneSAFE® Nitrile Powder Free Gloves
4/250
1000
103-1SF-218
XL
oneSAFE® Nitrile Powder Free Gloves
4/250
1000