U.S.-Patented Design Elevates Guest Experience, Sets Up Six Times Faster Than Standard Tablecloths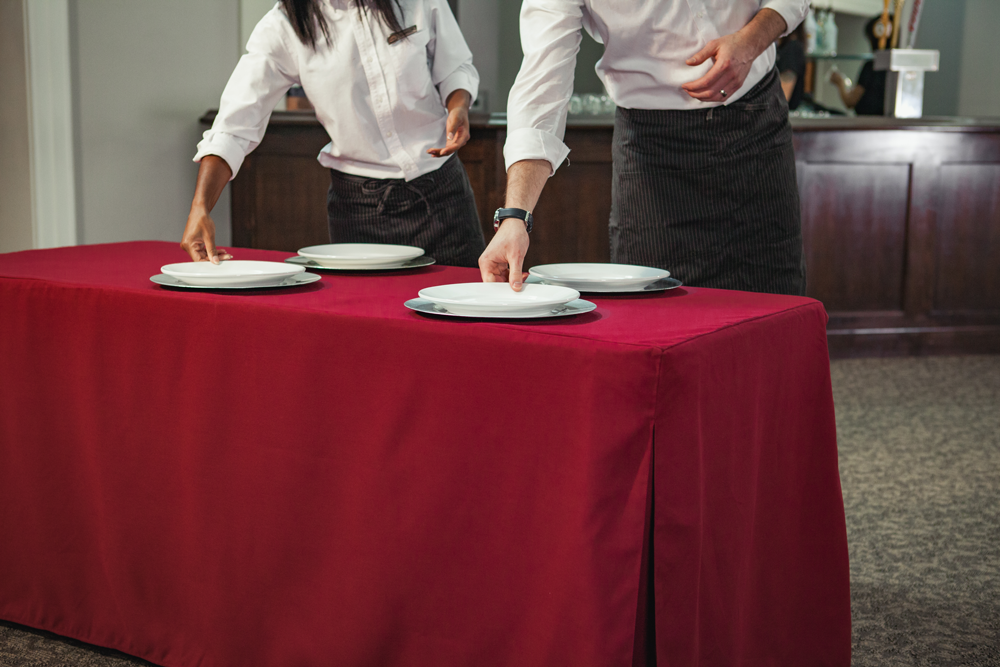 FoodHandler, Inc., a leading developer and supplier of high-quality food safety solutions, has introduced tablevogue (http://tablevogue.foodhandler.com), a fitted table cover with a U.S.-Patented design that is up to six times faster to install than standard, traditional tablecloths. As the exclusive commercial distributor of tablevogue, FoodHandler is committed to helping hospitality leaders elevate the guest experience at hotels, clubs, fine restaurants and events as well as in educational and corporate settings.
"Three things matter with table covers—fit, performance and style—and tablevogue has them all," said John Mihelich, vice president and general manager, FoodHandler. "Hospitality leaders can now afford a premium look and feel for their guests and improve their efficiency by using tablevogue instead of expensive tablecloths that require pinning or clipping."
tablevogue's corner seaming provides a secure fit with clean, sophisticated lines. It is constructed with Milliken & Company's Signature PlusTM, a 100-percent polyester fabric with a cotton feel that's used by more American laundries than all other table linens combined. The fabric's Patented soil-release feature allows for laundering in 120-degree water rather than 160 degrees to provide wrinkle-free performance and a longer life and while reducing energy usage and cost.
tablevogue comes in 11 stocked colors sized for 6- and 8-foot folding tables and 60- and 72-inch rounds. Additional colors and custom sizes and printing options are available at competitive prices.
"tablevogue transforms a table in seconds, and the modern style is being celebrated in an otherwise dated product category," said Jane Birdwell, the creator of tablevogue. "Hospitality executives love the look and the ease of tablevogue, which relieves worries about loose-fitting tablecloths in busy and outdoor environments. FoodHandler's top-notch distribution network was the very best choice to help us fulfill increasing demand in the hospitality market."
To learn more about tablevogue, call 800-388-4433 or visit http://tablevogue.foodhandler.com.